I have had the big pleasure to meet Alan Walsh and his kind wife Emily, and their dog Albert that I immediately loved, through our common friend Zsolt Szemerszky.
Our meeting was in the new Art Gallery that this extraordinary couple has opened in Monaco.
I want to share with you his nice artworks, but especially the kindness and sensibility for the beauty.
Famed for his bold use of vibrant colour and impeccably clean illustration style, Cote d'Azur based artist Alan Walsh's work takes you on an elegant journey back in time to an era of vintage motorsport and chic Riviera couture.
To fully understand his art you have to fully understand the man, and how did a child who was raised in North Yorkshire England learn to capture the Riviera in his own unique way? Silverstone, Monaco, Monza, Paul Ricard were not the places your average child spent his weekends but Alan did, traveling to such destinations from a very young age as a result of his father's job.
"My dad worked in motorsport, designing racing cars, so my eyes were opened to an interesting world from a very young age. I'd be popped in the back of a car or a motorhome with a colouring book and pens to keep me quiet while we travelled to and from circuits often surrounded with my mum's copies of Vogue magazine.  It wasn't only the places we travelled,  I was also captivated by the luxury brands that would associate with and sponsor the sport – the huge designer watches the drivers would wear, the way certain women around the circuit would dress like they were walking down a catwalk. I loved this, and in the end I'd be drawing the subjects around me more than the cars and I'm thankful that the same subjects are reflected and resonate in my collections to this day.»
Walsh spent his early working life as an Illustrator and visualiser in branding agencies across the globe before focusing solely on his Art in 2010. He was then privately tutored in the techniques of printmaking from Mr Daniel Bugg (London Royal College of Art) which allowed him to excel in solo exhibitions in Los Angeles, Cannes, San Francisco while also owning his own two galleries in Sydney. His iconic style mixes the simplicity of yesteryear with an uplifting modern day colour palette, impossibly toned females in chic French fashion pose with grace in front of bold blocks of colour, sipping champagne on Riva boats. A mouth watering representation of summer on the Riviera. It's easy to see why luxury brands such as Porsche, Tag Heuer and now Hotel Martinez have chosen to work with the 37 year old Artist, his work so clean yet so impactful wowing audiences around the globe.
Monaco is home to Walsh's chic new Gallery. It comes complete with a custom build art studio at the rear. Clients can have the experience of watching a modern day master at work. All the pieces he brings to life are handmade limited-edition screenprints (serigraphs) produced by passing acrylic paint through a silk mesh onto heavy weighted art paper. Very low edition numbers of each piece are produced and with an ever growing following its easy to see why his work is in such high demand.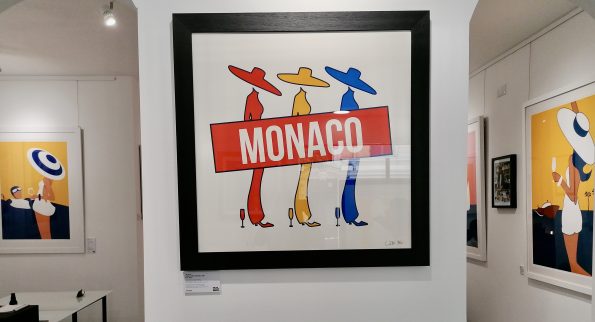 After 16 years in Australia the British born artist and his wife Emily have now relocated to Monaco to grow their business in Europe and it certainly looks like they are off to a great start.