Saint Jean de Cap Ferrat became, during the 29th and 30th of July, the diamond of the Côte d'Azur during the celebration of the European magazine Royal Arts Visions, dedicated exclusively to the Arab Women of the world of Art and Culture.
In this unique evento organized by Dr. Monica Mergiu and Raouf Meftah, there was an intercultural exhibition of heritage, concerts of out music, Arabic, paintings, calligraphies, in addition to the great artists who came from various countries.
His Excellency the Mayor Jean Francois Dieterich and diplomats from different countries such as Tunisia and Serbia were delighted to participate and deliver long speeches.
Red Ivory thanks to Dr. Monica Mergiu her collaboration to prepare this post.
 SYLVANA AYMARD
The paintress of Spirituality
The well known artist born near Cannes is permanently inspired by the marvelous atmosphere of Antibes Cote d'Azur.
Surrounded by all nuances of blue, purity of azur and brilliance of the most pictorial sea, Sylvana Aymard paintings speak about surrealism, esoteric, exotic flair in million of shades and nuances of blue. Her paintings are feminine, vibrant, emotional, spiritual having a certain touch of mythical beauty.
The predominant colors, white, blue, red, gold, circles of magical forms, here we are on the path to discover a new presence on the Antibes art scene – Sylvana Aymard is our Princess of Spirituality , our nymph and inspirational artist with the strong wish to develop new artistic stories of Beauty, Charm, Glamour and Brilliance.
Une Grande Dame d'Artes gifted with a universal artistic language.
MARIAM ASSED  
Representing LYBIA at LE DIAMANT DE CAP FERRAT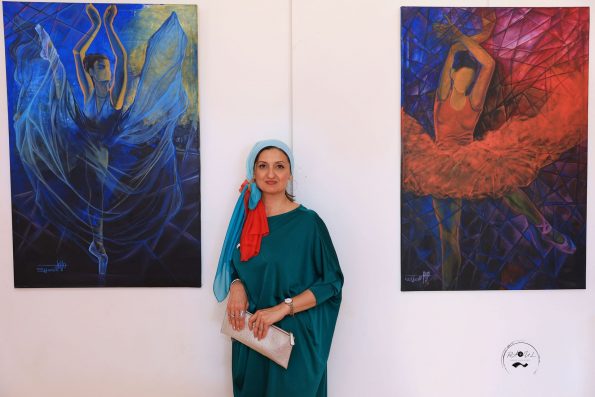 The paintings  of Mariam Assed, the famous Lybian artist, painter and Professor of Arts at university in Tripoli have been the eye catcher of our  exhibition during 2 days in Saint Jean Cap Ferrat.
Large paintings representing  the sensitive  brush touch of a woman dedicated totally to her artworks and her family with the same loving heart.
Mariam or Masha Assed was a real inspiration as a elegant presence on the Red Carpet Ceremony of Le Diamant de Cap Ferrat.
Wearing the fashionable Lybian inspired dress and a glamorous veil , accompanied by her sister  and supporter  Nadia Assed , the artist was able to impress and conquest the hearts and admiration of the media people , Guests and visitors with her modest charm and artistic talent.
We were all pleased to learn more about the Lybian heritage and the modern Lybian society  from a totally new perspective and visions.
Credit photos Raoul Rand
YUSUKE AKAMATSU 
SAMURAI , GLOBETROTTER, MAGICIAN
LE DIAMANT DE CAP FERRAT has offered the opportunity of a rich and diverse cultural exchange. Asia, Africa, Middle East countries, Gulf Countries, Europe, Japan and a long magical journey of interferences , discovery, reflections , ideas and opportunities exchange , visionary perspectives.
Yusuke Akamatsu is one of the most important and interesting artists of Royal Arts Visions magazine. Part of of our artist community  since the very beginning , a very precise, accurate personality gifted with unique talent , extravagance , exotic charm and a very special style of creative work.
Passionate globetrotter, Magician , Yusuke Akamatsu deserves a huge attention. He works and creates challenging the iPhone sources, resources  and possibilities as a futuristic mechanism , totally unusual and extremely interesting.
His photo – paintings are in fact waves of water, electricity, nature, human beauty or sentiments , feelings softly expressed trough the mysterious channels and screens of the mobil phones.
Yusuke Akamatsu is for sure a very courageous, brave, innovative artist. Exotic and strange. But what a huge talent and what an immense creative  force !
Crédit photos   Franck  Dombrowski ,  Raoul Rand
NENAD PETROVIC
PRESENTS THE FUTURISTIC MANEDA ART at LE DIAMANT DE CAP FERRAT
Nenad Petrovic is the famous Serbian  artist always welcomed and honored on Cote d 'Azur , titled as surrealistic  , futuristic, ultra modern , visionary sculptor .
His artworks are tables in the sense of «heart of the home» – unusual tables, embracing complex forms and shapes , elegant , inspirational, reminding to the connoisseurs about  the genius sculptures of Rodin, Brancusi and the magnificent surrealist paintings of Dali.
Tables as Gardens of Silence.
Tables as Flowers of Magic.
Tables as Voices and Echoes.
Tables as Moon, Sun and Stars.
Nenad Petrovic 's tables are  manufactured and created in a very special style, in natural stone  as powerful symbol of eternity, durability and spiritual transcendental over the centuries.
The stone tables represents the emblematic artworks of the Serbian artist who owns the special license for the manufacturing and production.
Tables at new dimension.
Between present and future, aspirations and inspiration for a new visionary projections in Art and Architecture signed by Nenad Petrovic.
Red Ivory thanks to Dr. Monica Mergiu her collaboration to prepare this post